RACING THIS WEEK
FEATURES
SERVICES
Lazy E Ranch has released their stallion fees for the 2018 season.

© Lazy E Ranch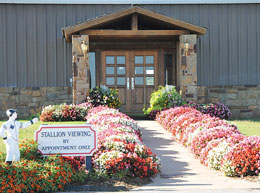 Lazy E Ranch Sets 2018 Fees
GUTHRIE, OK—NOVEMBER 8, 2017—
At
Lazy E Ranch
we are confident that you will find a stallion that will make a significant contribution to your 2018 breeding program.
It is our belief that breeders are the cornerstone of the Quarter Horse industry and for the past 30 years we have tried to stand stallions that would provide genetic superiority and return on investment for breeders.
We invite you to visit our stallion barn and evaluate potential mates for your mares. Time spent comparing stallions is some of the most important any breeder spends during the year. Come by and see the stallion that checks the list for you in terms of conformation, race record, pedigree, siring success, sales return and value for the fee.
You are always welcome at Lazy E Ranch.
The 2018 Lazy Ranch Stallion Roster
For more information about the Lazy E Ranch or to request a breeding contract, call 405/282-3437 or go to lazyeranch.net.