RACING THIS WEEK
FEATURES
SERVICES
So So Beautiful sold for $520,000, the most expensive Quarter Horse yearling purchased at a public auction in California since the Hennesy colt Masters Call was purchased for $485,000 at the 2006 Los Alamitos Equine Sale.

© Los Alamitos Equine Sale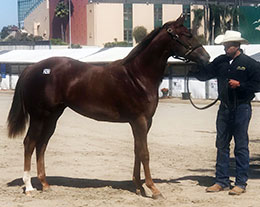 So So Beautiful Is Purchased For Equine Sale Record As Los Alamitos Event Has Its Highest Sale Avera
CYPRESS, CAóOCTOBER 3, 2021ó
Linda Gordon purchased Hip 247 So So Beautiful, a
Favorite Cartel
filly out of the tremendous broodmare Remember Me Rose, for a Los Alamitos Equine Sale record of $520,000 to highlight a smashingly successful two-day event on October 2nd and 3rd.
Consigned by Burns Ranch, So So Beautiful, a March foal who is a full sister to Grade 1 winners Powerful Favorite, Runforyourlife and Cyber Monday, is the most expensive Quarter Horse yearling purchased at a public auction in California since the Hennesy colt Masters Call was purchased for $485,000 at the 2006 Los Alamitos Equine Sale. Trainer Mike Robbins purchased So So Beautiful on behalf of Gordon during the second session of the Los Alamitos Equine Sale.
"Mrs. Gordon is a really, really good lady," Robbins said. "I really liked this filly, so I called and told her about her. She stayed pretty cool and bought her."
Robbins previously trained the AQHA champion filly and Grade 1 winner Jess Walkin Thru for the partnership of Linda and Gary Gordon and Ross Roark.
"We bought (Jess Walkin Thru) for $137,000 and she went on to make half a million. She was a world champion 2-year-old filly. Mrs. Gordon likes to race horses and likes fillies."
Yearlings sired by the great Favorite Cartel and out of the brilliant Remember Me Rose have been a major story at all major sales in the United States this year. All consigned by Burns Ranch, this breeding also resulted in a filly that was purchased by Simmons Racing for $450,000 at the Heritage Place Sale on September 25 and a colt purchased by Rosenthal Ranch LLC for $400,000 at the Ruidoso Yearling Sale on Labor Day weekend. Thatís combined sales of $1,370,000 for these three yearlings sired by Favorite Cartel.
"That was awesome," said Dr. Steve Burns shortly after the sale of So So Beautiful. "We are blessed to have this mare and those yearlings have sold darn good this year. We knew this filly was a good one. We thought maybe she would equal those other ones, but she went above and beyond what we expected. We are very proud of Remember Me Rose."
Led by the record purchase, the 17th renewal of the Los Alamitos Equine Sale enjoyed record numbers. The sale average for the 198 yearlings sold was a record $30,854 and represented an impressive increase of 44.2% from figures posted in 2020. The total amount for the yearlings sold was $6,109,000. In addition, eight mares sold for a total of $176,000 for a sale average of $22,000.
"It certainly was the strongest sale weíve ever had, especially on the upper end" said Ed Allred, who conducts the sale in partnership with Burns Ranch. "Our thanks to all the buyers and consignors that were part of this sale. I was delighted to see Scott Caldwell and Keith Babb run the auction part of the sale."
A total of eight yearlings sold for $100,000 or more and 30 sold for $50,000 or more. Allred, Quarter Horse racingís all-time leading breeder, sold four of the yearlings that went for $100,000 and 10 that went for $50,000 or more. His consignment included brothers to recent Grade 1 winners Chance To Excel and Circle City and Grade 2 winners Nomadic and Monopolist from a popular broodmare band that includes Elans Last, Moonlight Corona, Nymph, Make Over, Bemused, Realistically, etc.
"Thatís what itís all about, trying to develop a broodmare band. Iíve spent some money on them, occasionally, but by in large, Iíve developed a lot of (mares) and raised them myself. Any success Iíve had I attribute to my friendship with Spencer Childers, who mentored me completely on that. I still find the principles that he taught me to be valuable."
Allred consigned the second-highest seller, Hip 268 Hilarious, a colt by Favorite Cartel out of Nymph, who was purchased for $240,000 by Valeriano Racing Stables LLC. The January foal is a full brother to Monopolist and stakes finalist Gentleman Chuck.
From the Allred-consignment, full-siblings Always A Chance, who was Hip 151, and Another Nymph, who was Hip 150, were the third and fourth highest seller. Always A Chance, a colt by Favorite Cartel out of Elans Last, was purchased for $127,000 by Juniors Quarter Horses, while Another Nymph, a filly with the same breeding line as Another Nymph, was purchased for $120,000 by Dunn Ranch. Always A Chance and Another Nymph are full siblings to 2020 Ed Burke Million winner Chance To Excel.
Also purchased for $120,000 was Hip 202 Cheetin Heart, a filly by Favorite Cartel out of multiple Grade 1 finalist Jess Mas. Rosenthal Ranch purchased Cheetin Hart from the Burns Ranch consignment.
The seven highest sellers were all sired by Favorite Cartel. Four of them came from the Burns Ranch consignment, with the other three representing Allredís Rolling A Ranch. Burns Ranch finished as the leading consignor with 62 hips selling for $2,382,000. Allred also sold 62 hips for $1,906,500. Linda Gordon was the leading buyer thanks to So So Beautiful, who was her only purchase. Alejandro Castaneda was the second leading buyer after purchasing 17 hips for $385,900. Rachuan Suarez completed the top three after signing the ticket on 11 hips for $245,500.
For preliminary results including hip-by-hip results from both sessions CLICK HERE.