RACING THIS WEEK
FEATURES
SERVICES
The consignment deadline for the 44th Annual Heritage Place Fall Mixed Sale has been extended to Monday, September 13th.

© Heritage Place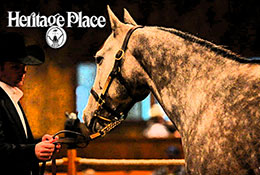 44th Annual Heritage Place Fall Mixed Sale Consignment Deadline Extended To September 13th
OKLAHOMA CITY, OK—SEPTEMBER 2, 2021—
The consignment deadline for the 44th Annual Heritage Place Fall Mixed Sale has been extended to Monday, September 13th.
The annual sale for Quarter Horse, Paint and Appaloosa and Thoroughbred yearlings, weanlings, broodmares, stallions and horses of racing age will be held Friday and Saturday November 5 & 6 in the Heritage Place sale pavilion in Oklahoma City.
Consignment Fee: $650 if entry is received in office by September 13, 2021 or $750 if entry is received after September 13, 2021.
CLICK HERE to download consignment forms for the Fall Mixed Sale.
Complete one form for each animal consigned: sign the 3rd page and return by entry deadline. Entries submitted without a signed contract will not be accepted.
For additional information visit the company website at heritageplace.com or call 405-682-4551.