RACING THIS WEEK
FEATURES
SERVICES
Across the board numbers rose in the opening session of the Ruidoso New Mexico-Bred QH Yearling Sale on Friday night.

© StallioneSearch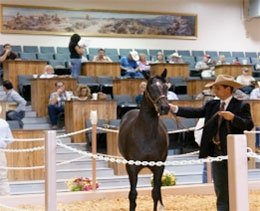 Across The Board Quarter Horse Numbers Spike as Ruidoso New Mexico-Bred Sale Kicks Off Friday
RUIDOSO DOWNS, NM—AUGUST 17, 2018—
Opening night numbers of the Ruidoso Horse Sale Company's New Mexico Bred Quarter Horse Yearling Sale soared Friday evening following day 1 of the $3 million All American Futurity trials at Ruidoso Downs.
Ruidoso Horse Sale Company reported 40 of the 50 Quarter Horse yearlings cataloged for night 1 sold for $556,700, a 30% increase over last year's opening Quarter Horse number where 42 head grossed $390,000.
The 2018 Quarter Horse average in the opening session spiked 33% above 2017 to $13,918 compared to $9,286 last year. The median rose 36% to $9,500 compared to $6,100 in 2017.
The first Quarter Horse yearling offered on Friday, Hip 98 Vintage Spotrod, was the high-seller on night 1 at $55,000. La Feliz Montana Ranch, LLC and Javier Rodriguez bought the colt by leading third-crop sire Big Daddy Cartel from the consignment of MJ Farms, Agent. Out of the unraced Tres Seis mare Kim Crawford, Vintage Spotrod is a half-brother to 4 winners including RG1 finalist Beerun.
Michael Valenzuela paid $50,000 for the second high-seller on Friday, another Big Daddy Cartel colt from the Mr Jess Perry mare Le Mishka Jess. Sierra Blanca Equine, Agent consigned Hip 138 Bratva, a sorrel colt form the family of Grade 1 winner First Down Mr Jess.
The aforementioned La Feliz Montana Ranch LLC paid $40,00 for Hip 137 Pendleton Promise, a Big Daddy Cartel half-brother to RG1 winner Royal Snowflakes and two other black-type siblings. MJ Farms, LLC Agent for Benny Smith consigned the gray gelding out Dashin Thru Snow by This Snow Is Royal.
Eduardo Mendoza led all Quarter Horses buyers in the opening session with three purchases for $57,000. La Feliz Montana Ranch, LLC and Javier Rodriguez had the one yearling for $55,000 and Michael Valenzuela had the one purchase for $50,000.
MJ Farms, Agent sold 13 head for $216,600 to lead all Quarter Horse consignors and agents on Friday night. Double LL Farms, Agent had 15 head gross $172,400 and Sierra Blanca Equine, Agent sold 3 head for $57,000. MJ Farms as Agent for two individuals were also the 4th and 5th leading consignor on Friday.
Big Daddy Cartel led all sires of yearlings (by average, two or more sold) in the opening session with seven head for $30,000. Woodbridge had four yearling average $14,650 and First Moonflash saw eight yearlings average $12,938.
CLICK HERE for preliminary Quarter Horse results from session, including hip-by-hip results.
On Saturday Ruidoso Horse Sale Company will offer two additional sessions of New Mexico-Bred QH Yearlings and a session of Select Foals In Utero. The sale will get underway shortly following the final All American Futurity trial at Ruidoso Downs.
During the opening session on Friday the Ruidoso Horse Sale Company cataloged 97 New Mexico-Bred Thoroughbred Yearlings who grossed $824,000.