RACING THIS WEEK
FEATURES
SERVICES
Golden State Million Futurity(G1) winner Flash And Roll debuted at No. 3 in the latest AQHA Racing National Poll for 2-year-olds.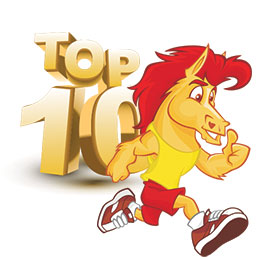 Flash And Roll Sprints Into Racing National Poll
AMERICAN QUARTER HORSE ASSOCIATION—NOVEMBER 8, 2018—
Following a wire-to-wire victory in Sunday's $942,750 Golden State Million Futurity (G1) at Los Alamitos Race Course, Flash And Roll debuted at No. 3 in the latest AQHA Racing National Poll for 2-year-olds.
The First Moonflash filly was ridden to victory by G.R. Carter Jr. for trainer Justin Joiner and owner Scott Bryant, and trails unanimous No. 1-ranked Apocalyptical Jess, the winner of the All American Futurity (G1), and No. 2-ranked MM Fourinthemorning, winner of the Rainbow Futurity (G1). Apocalyptical Jess will put his top ranking on the line this coming weekend in Saturday's $1,018,077 Texas Classic Futurity (G1) at Lone Star Park.
The rankings for older horses were mostly unchanged this week, with two-time reigning world champion Jessies First Down occupying the top spot as he has for virtually the entire racing season. However, this weekend's action could shake up the rankings as No. 2-ranked Hotstepper, winner of the All American Derby (G1), races in the $378,810 Texas Classic Derby (G1) on Saturday. Sunday's $925,100 Los Alamitos Super Derby (G1) includes KVN Corona, who is ranked just outside the top 10, and the winner of that race is likely to get consideration in next week's poll.
The following weekend could also affect the rankings, as Los Alamitos will present the star-studded Bank of America Challenge Championships on Saturday, November 17.
NATIONAL RANKINGS, 3-YEAR-OLDS AND OLDER
JESSIES FIRST DOWN (90)
HOTSTEPPER (78)
BH LISAS BOY (74)
BODACIOUS EAGLE (57)
HE LOOKS HOT (54)
ZOOMIN FOR SPUDS (44)
HOLD AIR HOSTAGE (39)
TARZANITO (33)
HEZA DASHA FIRE (30)
JESS MOVE YOU (17)
SF HOT PASS (10), KVN CORONA (9), BRUCE ALLMTY (4), JESSTACARTEL (4), DF AJ GREEN LEAVES (2), EOS A POLITICAL WIN (2), BELIEVE ME IRENE (1), JESS RAVIN (1), MAJOR BITES (1).
NATIONAL RANKINGS, 2-YEAR-OLDS
APOCALYPTICAL JESS (100)
MM FOURINTHEMORNING (87)
FLASH AND ROLL (66)
WAVE HER DOWN (62)
BLUE CORAZON (55)
SUZE RETURNS (34)
IM JESS SPECIAL V (33)
LYNNDER 16 (31)
LONG WAGON HO (30)
WICKED AFFAIR (13)
DANJER (12), PAINT ME A SINNER (8), JESS FIRE CHICK (6), POWERFUL FAVORITE (5), COLE MAN 47 (3), JESS MACHO CORONA (2), ZEE JAMES (2), EAGLE COAST (1).
The integrity of American Quarter Horse racing is of utmost importance to AQHA. As part of a multifaceted effort to ensure integrity, AQHA has instituted a policy concerning awards and publicity that makes horses with racing medication positives and horses trained by trainers with racing medication positives ineligible for the AQHA Racing National Polls. CLICK HERE to read the complete policy.
* * * * * * * * * * * * * *
AQHA News and information is a service of the American Quarter Horse Association. For more news and information, follow @AQHARacing on Twitter, watch the AQHA Racing Newscast and visit aqha.com/racing.