RACING THIS WEEK
FEATURES
SERVICES
Golden State Million Futurity(G1) winner J Fire Up jumps up in national poll for 2-year-olds this week.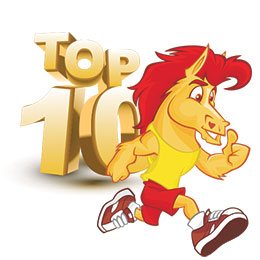 J Fire Up Jumps Up AQHA Racing National Poll
AMERICAN QUARTER HORSE ASSOCIATION—NOVEMBER 9, 2017—
After recording her second and richest stakes win of the year in the $938,850 Golden State Million Futurity (G1) on Sunday at Los Alamitos, J Fire Up rocketed up the AQHA Racing National Poll for 2-year-olds to land in the No. 5 spot.
The daughter of Kiddy Up, who runs for Darling Farms, Ernesto Solis and trainer Jaime Gomez, was ranked as high as No. 8 earlier in the year after a second-place finish in the Ed Burke Million Futurity (G1) and a victory in the Governor's Cup Futurity (RG2). However, the filly slid out of the Top-10 after being off for nearly three months. Fly Baby Fly, winner of the All American Futurity (G1), kept her top ranking for the 10th week in a row.
There again was little change in the poll for 3-year-olds and up with Hold Air Hostage perched at the top, but there could be some movement after this weekend with the Texas Classic Derby (G1) on Saturday at Lone Star Park and the Los Alamitos Super Derby (G1) on Sunday in California. No. 10-ranked Duponte is the fastest qualifier in the Texas Classic; there are no ranked horses in the Super Derby, but the winner figures to attract some votes next week.
NATIONAL RANKINGS, 3-YEAR-OLDS AND OLDER
HOLD AIR HOSTAGE (99)
JESSIES FIRST DOWN (89)
HEZA DASHA FIRE (71)
BODACIOUS EAGLE (57)
BH LISAS BOY (52)
THE FISCAL CLIFF (38)
ZOOMIN EFFORTLESSLY (37)
TOUGH TO BEE (32)
MAGICAL JESS (20).
DUPONTE (15)
FLASH N BLING (7), HE LOOKS HOT (5), HIGH PLAINS PERRY (5), SKY BO DASH (5), APOLLITICAL OK (4), TIME FOR JESS (4), TIME FOR WINE (4), JESS PAINT YOUR LIPS (3), ONCE OVER (1), RC ME LEAVING YOU (1), THAT RICO (1).
NATIONAL RANKINGS, 2-YEAR-OLDS
FLY BABY FLY (97)
EAGLE JAZZ (91)
KVN CORONA (76)
UPTOWN DYNASTY (65)
J FIRE UP (51)
BIGG DADDY (44)
NYMERIA (43)
THIS IS AN EAGLE (28)
LA VENCEDORA (17)
DASHNUNDER AFULLMOON (16)
HOTSTEPPER (7), THREE BAR CARTEL (7), MATILDA CZECH (4), SIXES FLASH (2), JESSE LANE (1), TOGETHER TO THE END (1).
AQHA News and information is a service of the American Quarter Horse Association. For more news and information, follow @AQHARacing on Twitter, watch the AQHA Racing Newscast and visit www.aqharacing.com.