RACING THIS WEEK
FEATURES
SERVICES
Rachel McLaughlin, Indiana Grand's on-air racing personality, talks with students involved in the Youth Racing Experience during the races Saturday, June 17.

© Linscott Photography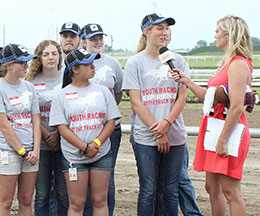 QHRAI Hosts Youth Racing Experience at Indiana Grand Racing & Casino
SHELBYVILLE, IN—JUNE 18, 2017—
The Quarter Horse Racing Association of Indiana (QHRAI) held their annual Youth Racing Experience event Saturday at Indiana Grand. The program designed to teach 16-18 year olds about Quarter Horse racing drew a total of 13 students from both Indiana and Illinois for the day-long event.
Students arrived at 8 a.m. and were informed of different aspects of racing, including guest speakers that talked about veterinary work, race marketing, security, track maintenance, and other facets of the racetrack. After lunch, the group took a tour of the Indiana Horse Racing Commission offices and received honorary licenses for their time at the track. They also got an in depth look inside the Quarter Horse barn and talked to several trainers about conditioning the sprinters for racing.
The afternoon session was followed by a test on what they learned throughout the day. The top two scores from the tests will advance to the national Youth Racing League hosted by the American Quarter Horse Association (AQHA) during the Bank of America Challenge Championships set for mid-October at Prairie Meadows near Des Moines, Ia. In addition to the trip, the students advancing to the final will also receive a $1,000 scholarship from QHRAI.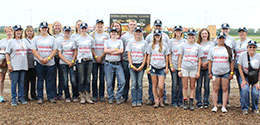 A total of 13 students from both Indiana and Illinois attended the QHRAI's annual Youth Racing Experience event.
© Linscott Photography
"This will be the hardest year we have ever had to choose the winners," said Vickie Duke, coordinator of the event for QHRAI. "All of these kids came in here so knowledgeable and their attitudes about life were unbelievable. They were very appreciative of the entire experience and it will come down to the test to determine who advances. We will send two to the final, but I'm hoping AQHA will allow us to send four since we had some kids from out of state in our local event."
Illinois does not offer a Youth Racing Experience program so two students made the trip all the way to Indiana Grand to participate in the program. The program at Indiana Grand was the closest for the students to attend with hopes of advancing onto the final round in October.
Students attending the event came from all across Indiana. Most had prior knowledge of horses, but very few had any experience around racehorses, including Alyssa Witherington of Norman, Ind.
"I actually found out about this program (Youth Racing Experience) on Facebook," said Alyssa, who is active on the Quarter Horse barrel circuit in Indiana. "Getting to meet the trainers and having full blown conversations with them was one of the best parts for me. We were able to see the inside story into Quarter Horse racing."
Alyssa's father, Jerry, brought his daughter more than two hours up to Indiana Grand for the program. He noted they have been to Indiana Grand before, but in a different capacity.
"We come up to the races a lot, but we are always spectators," said Jerry. "We've been running barrels for years and years but this is the first opportunity we have ever had to get behind the scenes. We've got one now that is born to be a runner, so we hope to get him in training for next year."
Alyssa hopes to advance to the next round of the Youth Racing Experience. She is headed into her junior year at Medora High School and has a strong interest in learning more about Quarter Horse racing.
The Youth Racing Experience was part of an evening that included two Quarter Horse Futurity finals. The 15th running of the $123,900 Jaguar Rocket Futurity and the eighth running of the $184,000 Gordon Mobley Futurity highlighted the racing program. Students were able to go back to the barn before the races and shadow the trainer of a horse in one of the two stakes. Alyssa was assigned to Matt Frazier, who conditioned winner Apollitical Regard in the Jaguar Rocket Futurity, which was an added bonus for the day spent at the track for her and her father.
Students will be notified within the next 10 days as to which will advance to the final round in Iowa this fall. Last year's second place finisher in the local program, Hunter Duncan of Terre Haute, Ind., was also in attendance this year to give some insight on the final. She finished second overall at the 2016 Youth Racing Experience, which was held at Los Alamitos in Southern California. Along with her second place finish, Hunter picked up an additional $2,000 scholarship courtesy of the AQHA.
The 15th season of Thoroughbred and Quarter Horse racing continues through Saturday, Oct. 28. Racing is conducted Tuesday, Wednesday and Friday at 2:05 p.m. EST with Saturday racing beginning at 6:05 p.m. EST. Thursday racing will be held July 6 – Aug. 24 at 2:05 p.m. EST.
* * * * * * * * * * * * * * * * * * *
About Indiana Grand Racing & Casino: Indiana Grand Racing & Casino holds multiple awards from industry publications for customer service, entertainment, gaming and dining. Located in Shelbyville, Ind., Indiana Grand features 2,200 of the latest slots and electronic table games in addition to a one-mile dirt race course and a seven-eighths mile turf course offering live Thoroughbred and Quarter Horse racing each year. Simulcast wagering is also offered year-round at Winner's Circle Brewpub & OTB located on the casino floor as well as an off-track betting facility located in Clarksville, Ind. For more information, please visit  www.IndianaGrand.com.