RACING THIS WEEK
FEATURES
SERVICES
Lone Star Park General Manager Scott Wells presents the 2015 Leading QH Owner trophy to Terry Stennett.

© Dustin Orona Photography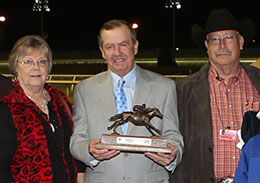 Stennett, Wood, Ramirez Take Top Titles For Lone Star Park Meet
GRAND PRAIRIE, TX—NOVEMBER 15, 2015—
Owner Terry Stennett, trainer Trey Woods and jockey Ricky Ramirez were honored Saturday night at Lone Star Park as the Quarter Horse Leaders for the just completed 2015 Meeting of Champions.
Following the second race Saturday night the Champion Jockey and Trainer of the Meeting were presented their awards.
Champion Jockey Ricky Ramirez earned his seventh riding title at Lone Star Park. He won previously in 2003 and 2008 thru 2012. He finished the season with a (77) 34-14-7 record with $1,227,907 earned. He had a 44% win percentage while his mounts were in the money at a 71% clip.
Champion Trainer Honors were bestowed on Trey Wood. This marks the fifth title for Wood at Lone Star Park. His previous title years were 2009 thru 2012. The young trainer saddled 61 starters for a 25-12-6 record and $889,270 in earnings. Woods stable won 41% of their starts and was in the money 70% of the time.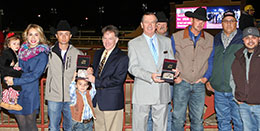 Lone Star Park General Manager Scott Wells present Lone Star Park 2015 leading jockey Ricky Ramirez and leading trainer Trey Wood awards Saturday night.
© Dustin Orona Photography
The pair teamed for a first-ever hat trick Saturday night to win the Texas Classic Futurity, Derby and Juvenile.
Going into the final two-nights of racing the 2015 Champion Owner award was too close to call with owners Johnny Trotter and Terry Stennett in a tie with six wins each. Saturday night Trotter won the Grade 1 Texas Classic Derby, but Stennett was victorious in the both the Grade 1 Texas Classic Futurity and Texas Classic Juvenile to take the title.
Trainer C. Dwayne "Sleepy" Gilbreath saddled his last winner at Lone Star Park for owners BSR Stables, Inc.
© Dustin Orona Photography
Stennett's stable finished the meet with a (14) 9-2-1 record and $553,853 in earnings. His horses won 65% of their starts while finishing in the money 86% of the time.
In other track news leading trainer C. Dwayne Gilbreath and jockey G.R. Carter, Jr., who both announced earlier this year that they would be retiring at the end of 2015, teamed to win the final race of Lone Star Park meeting Saturday night.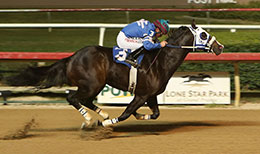 AQHA Racing Champion jockey G.R. Carter, Jr., rode his last winner Lone Star Park winner, Pyc Laveaux, in the final race Saturday.
© Dustin Orona Photography
Carter rode Pyc Laveaux to a one-length win in the 10th race a maiden 2-year-old event at 350 yards. The
Pyc Paint Your Wagon
gelding was saddled by Gilbreath for owners BRS Stables, Inc.
Ten-time AQHA Racing Champion Jockey Carter was also honored in the winner's circle Saturday night by Lone Star Park General Manager Scott Wells on Saturday.