RACING THIS WEEK
FEATURES
SERVICES
Home
>
Preview Racing
>Field For The Ages Set For Grade 1 Robert Boniface Los Alamitos Invitational Championship On Sunday
World Champion Heza Dasha Fire will be one of three Champion of Champions(G1) winners starting in the Grade 1, $125,000 Robert Boniface Los Alamitos Invitational Championship on Sunday night.

© Scott Martinez
Field For The Ages Set For Grade 1 Robert Boniface Los Alamitos Invitational Championship On Sunday
LOS ALAMITOS, CAóOCTOBER 14, 2018ó
A 10 horse field headed by the past three winners of the Grade 1, $600,000 Champion of Champions in 2015 winner Heza Dasha Fire, 2016 winner Zoomin For Spuds and 2017 upset winner
Mr Pyc To You
will get together for the running of the Grade 1, $125,000 Robert Boniface Los Alamitos Invitational Championship to be held at 440 yards on Sunday night.
The gathering of stars will also include 2017 AQHA champion 3-year-old Hold Air Hostage plus multiple Grade 1 winners He Looks Hot and BH Lisas Boy.
Headed by those five outstanding runners, the field is one of the best assembled for a Quarter Horse race anywhere in 2018. Itís also one of the richest ever.
The 10 horses have combined for gross earnings of $7,947,115, 25 Grade 1 victories and 107 total wins from 247 career starts. The Los Alamitos Championship is scheduled as the ninth race on Sunday. The winner will earn a berth to the Grade 1, $600,000 Champion of Champions to be held here on Saturday, December 15.
"I love it," said trainer Monty Arrossa, whoíll saddle Zoomin For Spuds and Katies Easy Moves on Sunday. "This is one of the best races that Iíve ever been a part of and I love the competition. Iím honored just to have horses in this race."
Zoomin For Spuds enters the Championship off a fourth in the Grade 1 Go Man Go Handicap.
© Scott Martinez
Heza Dasha Fire, the AQHA World Champion in 2015, is one of three millionaires in the field to go along with 2017 All American Derby winner Hold Air Hostage and 2014 Los Alamitos Two Million Futurity winner He Looks Hot. For Heza Dasha Fire, the 6-year-old gelding is trying to qualify to the Champion of Champions for the fourth year in a row, and heís also won this race in each of the last two years. A victory on Sunday would make Heza Dasha Fire only the third horse to threepeat in this event, joining Go Josie Go (1964-1966) and Catchmeinyourdreams (2003-2005).
The gelding by Walk Thru Fire will be his first start since winning the Spencer Childers California Breeders Championship Handicap on Saturday, July 28 and only his second start since his runner-up effort in last yearís Champion of Champions. Heza Dasha Fire, whoíll start from post number one on Sunday, has had some physical issues to deal with since the Spencer Childers.
"Iím nervous because we had to change many things with him since the Spencer Childers," said Kathy Meneely of S-Quarter K, LLC. "He spent two weeks at San Luis Rey Downs after the Spencer Childers. After he ran second to Zoomin For Spuds in the 2016 Champion of Champions we found that he had infection that affects his kidneys. Itís something that we keep track off and after the Spencer Childers he had some numbers that were elevated. We took him off alfalfa and had to change his feed to lower his protein intake. Those things have helped and heís doing great, but heís facing a very strong field at 440 yards."
Cesar Franco will take over the mount aboard BH Lisas Boy.
© Scott Martinez
Heza Dasha Fire is also $24,674 away from becoming Quarter Horse racingís second all-time leading earner.
Stoli
s Winner is currently ranked second in earnings, while Ochoa is the all-time leading earner with over $2.78 million. Cruz Mendez will ride Heza Dasha Fire for trainer Jose Flores.
Jim Walkerís Zoomin For Spuds is also coming off from being under the weather after running fourth in the Go Man Go Handicap.
"He came up with an infection after the race," Arrossa said. "We treated it for 10 days and heís really responded nicely since then. Heís feeling and looking great. Iím glad I donít have to make the morning line for this race because it is a great field. Iím excited and nervous for it already. Katies Easy Moves will love the 440 yards. He ran a nice third to BH Lisas Boy and Hold Air Hostage in the Bank of America California Challenge in his last start. Iím feeling good about him right now."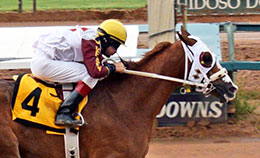 Rodrigo Vallejo will be aboard champion Hold Air Hostage for owner Darling Farms and trainer Jamie Gomez.
© Gay Harris / Ruidoso Downs
Bill Hoburgís BH Lisas Boy posted a tremendous come-from-behind effort to win the Bank of America California Challenge on August 11. Heís also won the Grade 1 Brad McKinzie Los Alamitos Winter Championship and run second to Zoomin For Spuds in the Grade 1 Vessels Maturity. Cesar Franco will take over the mount aboard BH Lisas Boy with Jesus Rios Ayala sticking with Zoomin For Spuds for this race.
Rodrigo Vallejo, who rode Hold Air Hostage to wins in the All American Derby, Rainbow Derby and Heritage Place Derby last year, makes his way to Orange County to pilot the Apollitical Jess gelding for Darling Farms and trainer Jaime Gomez. Hold Air Hostage finished third in the Go Man Go in his last start and was second to BH Lisas Boy in the Bank of America California race.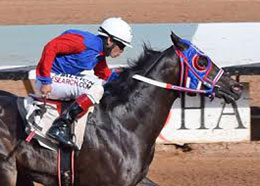 Champion of Champions winner Mr Pyc To You will start for Ron and Denise Van Amburgh and Jose Flores.
© Gay Harris / Ruidoso Downs
Ron and Denise Van Amburgh and Jose Floresí
Mr Pyc To You
, who won the Champion of Champions last year as the longest shot ever at 60-1 odds, will make his first Los Alamitos start since that victory when he starts from post number three. Carlos Huerta will ride the horse by
Pyc Paint Your Wagon
.
A1A Racing LLCís Tarzanito and Johnny Trotterís Bodacious Eagle are two other terrific older horses aiming for a big victory in this race. To be ridden by Eddie Garcia for trainer Yanet Rodriguez, Tarzanito bumped at the start of the Go Man Go, but he was powerful throughout on the way to winning the Grade 1 race by a neck over Royaltys Authority. Tarzanito ran third in the Vessels Maturity and Spencer Childers prior to the Go Man Go.
Justin Joiner will saddle All American Gold Cup(G1) Bodacious Eagle for owner Johnny Trotter.
© Gay Harris / Ruidoso Downs
The Justin Joiner-trained Bodacious Eagle won the All American Gold Cup at Ruidoso Downs in his last start and was a three-time stakes winner in 2017. Cody Jensen will ride the son of
One Famous Eagle
. Ed Allredís He Looks Hot, a multiple Grade 1 winner and an experienced stakes runner, will start from post number 10 and arrived after easily winning at 550 yards.
Vinnie Bednar, the co-leading Thoroughbred jockey at Los Alamitos last year, has been excellent getting Quarter Horses out of the gate this year in his first full year piloting them, and with a sharp break, He Looks Hot could win a Grade 1 race for the fourth year in his five-year racing career.
S&S Horsesí Royaltys Authority, a solid runner-up in the Go Man Go and the winner of the Kaweah Bar Handicap earlier this year, will complete this outstanding field.
The lineup from the rail out with career earnings is as follows:
Heza Dasha Fire ($2,217,987)
BH Lisas Boy ($582,662)
Mr Pyc To You ($476,170)
Hold Air Hostage ($1,345,801)
Katies Easy Moves ($113,658)
Zoomin For Spuds ($657,441)
Royaltys Authority ($123,658)
Tarzanito ($347,183)
Bodacious Eagle ($968,836)
He Looks Hot ($1,145,519)
Courtesy of www.losalamitos.com.