Saturday, May 18, 2013
Member Stallion Search
Final results were released for the recently completed 2012 Louisiana Breeders' Yearling Sale held in Kinder.

Courtesy LQHBA Sale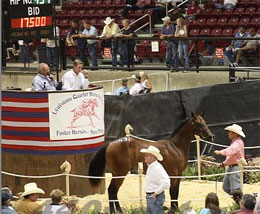 LQHBA Releases Final Yearling Sale Results
ALEXANDRIA, LA—AUGUST 10, 2012—
Final sale results for the 2012 Louisiana Breeders' Yearling Sale held August 3-4 were released today. Preliminary results were posted following each session of the two-day sale held in the Coushatta Casino Resort Pavilion in Kinder.
Final results showed and uptick in the average price paid for a yearling in Louisiana this year rose to $8,844 as compared to $8,241 in 2011. The Median hit $5,700 compared to $5,200 last year. The 335 yearlings marked sold grossed $2,962,600 as compared to 319 that brought $2,692,000 last year. Of the 505 head cataloged, there were 38 outs and 132 yearlings that did not bring their reserve.
Nine colts and one gelding were among the top 10 high-sellers.
Im Jess Blue brought the highest price of $56,000 from Kimberly and Herman Hogue. Natalie Montgomery, DVM consigned the gray Jess Louisiana Blue colt from the Mr Eye Opener mare In The Open. Im Jess Blue is a half-brother to 2012 2-year-olds Surf N Turf Dude ($28,778) runner up in the Four Corners Futurity(G3) and Open Me A Corona ($14,107) a finalist in the Laddie Futurity(RG2).
TM Ranch was the sale's leading buyer with six head for $135,000. Ben Garza had eight purchased for $105,000 while Mary Thompson had four yearlings for $92,900.
Grant Farms, LLC was the sale's leading consignor with 12 head for $197,700 followed by Robicheaux Ranch, Inc. , Agent, who sold 14 head for $175,900. Jumonville Farms sold six for $127,500 and Donald Aymond and David Bates, Jr., had four head for $90,500.
Game Patriot led all sale sires by average with 33 yearlings at $17,124, followed by Jess Louisiana Blue with 10 for $16,960 and Coronas Leaving You with 15 for $16,713. Fast Prize Dash was the leading first sale crop sire with 11 head averaging $6,064.
For final results to the 2012 LQHBA Yearling Sale, including hip-by-hip results CLICK HERE.