RACING THIS WEEK
FEATURES
SERVICES
Monopolist under jockey Henry Lopez, setting the fastest qualifying time for the Grade 2 Southern California Derby Sunday night at Los Alamitos Race Course.

© Scott Martinez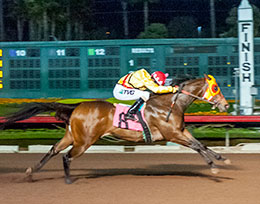 Monopolist With Another Impressive Win, Tops Southern California Trials Night
LOS ALAMITOS, CA—NOVEMBER 28, 2021—
Ed Allred's Monopolist recorded the fastest qualifying time to the Grade 2, $150,600 Southern California and also of the entire season at Los Alamitos after covering the 400 yards in :19.429 here on Sunday night.
Ridden by Henry Reynoso Lopez for trainer James Glenn, Jr., Monopolist dominated the last of three trials to the Southern California Derby, as he led from gate to wire in route to bettering the clocking posted by Apollitical Patty of :19.472 when she won the Los Alamitos Oaks back in March.
For Monopolist, the win was his fourth in a trial race this season. He also visited the winner's circle after the trials to the Grade 1 Los Alamitos Winter Derby, Governor's Cup Derby and Grade 3 PCQHRA Breeders Derby.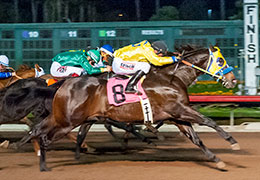 J Best Boogie (#8) holds off fellow qualifier Karl Strauss in the second trial Sunday night.
© Scott Martinez
The gelding by
Favorite Cartel
had the fastest qualifying time to the Governor's Cup Derby and PCQHRA Breeders Derby as well. His only loss in a trial race this year came when he was looking to qualify to the Los Alamitos Super Derby. Monopolist ran fourth in his Super Derby trial.
"Last time he threw a disappointing race, but he doesn't do that very often," Glenn said. It was disappointing because he really was training as good as he ever had going into the Super Derby trials. He really set up excellent for it. He didn't fire, but (horses) have their good days and bad days like we do. I didn't let it faze us and we just moved on to the next one. We had this one coming up and obviously it's not as big because it doesn't have a million dollars on the line. He trained up for this great and he fired tonight."
Monopolist won the Grade 2 PCQHRA Breeders Futurity last year and was fourth in the Los Alamitos Two Million Futurity final. He finished third in the Los Alamitos Winter Derby and second in the Governor's Cup Derby and the Southern California now gives him a chance to become a derby winner.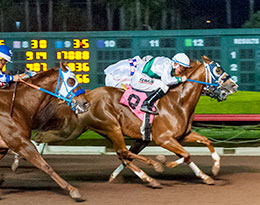 O Donovan Rossa (#8) gets up over fellow qualifier Apollitical Hero (#6) in the opening trial.
© Scott Martinez
"He's been pretty consistent and tonight he stepped away out of the gate," Glenn added. "Henry said he broke on the lead, and it pretty much was over."
The Allred-bred runner is out of the multiple stakes winning mare Nymph, who earned $74,260 in her racing career. Monopolist, a winner in seven of his 15 career starts, has earned $374,712 on the track. He'll be looking to add to that figure as the first-place share of the purse in the Southern California Derby is $63,252.
Twenty-five sophomores competed in the trials with the horses with the 10 fastest times returning for the final on Sunday, December 19, which is the meet's closing night. The other two trials went to Jaime Gomez's J Best Boogie and J. Garvan Kelly and J. Lloyd Yother's O Donovan Rossa.
They both qualified to the final. Ridden by Oscar Peinado, J Best Boogies finished with the fourth fastest time of :19.785, while O Donovan Rossa had the sixth fastest of :19.826 with Diego Herrera aboard.
With J Best Boogie, her neck victory in the trials represents her best effort since winning the Tami Purcell on July 24. The filly by Docs Best Card had been hampered with slow starts in her two races since the Tami Purcell.
"Tonight, she finally ran nicely like I was hoping she would," Gomez said. "She had been dealing with an infection around the time of her previous two starts. She wasn't eating like she usually does. She would run and then around two weeks later she wouldn't eat. She's doing great now. She's eating all of her grain and does it right away. Her two previous races were the biggest ones for her – the Mildred Vessels Handicap and the Super Derby trials – but we're thrilled that she's back to her old self and thrilled to be in this final."
O Donovan Rossa was the surprise package of the night, as he won his trial at odds of 30-1. Trained by Juan Aleman, the gelding by Apollitical Jess came in after a rough trip in his Super Derby heat. He bumped early here again, but he finished with a flurry to win for the third time in his career.
The final trial was mighty productive as it also featured Reliance Ranches' A Dash Of Sign, who finished with the second fastest time of :19.593, and Gentry Farms' In My Heart, who had the third fastest time.
For the complete list of Southern California Derby(G2) finalists with times, sires, dams, owners, breeders, trainers and jockeys CLICK HERE.
* * * * * * * * * * * * * *
For more info, please contact larace@losalamitos.com. Follow us on Twitter or Instagram at @losalracing or visit us online at www.losalamitos.com.