RACING THIS WEEK
FEATURES
SERVICES
EG High Desert Farms' Eagles Policy drives to victory in the 7th race on Friday night at Los Alamitos Race Course.

© Scott Martinez
Jesus Nunez Wins 500th Quarter Horse Race At Los Alamitos
LOS ALAMITOS, CA—JANUARY 11, 2019—
Trainer Jesus Nunez won his 500th Quarter Horse race at Los Alamitos after saddling
EG High Desert Farms
' Eagles Policy to victory in the 7th race on Friday night.
Nunez is the 19th trainer to reach the mark at the Orange County track. Nunez has won a total of 535 Quarter Horse at all tracks during his career.
In 2018, Nunez saddled Jess Ravin to victory in the Grade 1 Mildred Vessels Memorial Handicap. The trainer also saddled the champion Buccaneer Beach to victory in the Grade 1 Los Alamitos Winter Championship in 2004.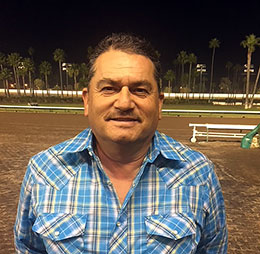 Trainer Jesus Nunez saddled his 500th career winner at Los Alamitos Race Course Friday night.
© Scott Martinez
His other stakes winners include Apollos Favorite in the 2005 Las Damas Handicap, which was a Grade 2 races at the time.
Nunez has won nine graded stakes and 22 total stakes races during his 24-year career. He's also won graded stakes with the likes of A Mere Chocolate, Jess Hawk, Feature Mr Liquidity, A Mere Splash and Bac To Streak.
Nunez is also a winner of 366 races Thoroughbred races at Los Alamitos and has been this track's leading trainer with the breed each of the past two years.
* * * * * * * * * * * * * * * * *
Courtesy of www.losalamitos.com.