RACING THIS WEEK
FEATURES
SERVICES
KVN Corona(#6) out duels J Fire Up in Sunday's Ed Burke Million Futurity(G1) at Los Alamitos Race Course.

© Scott Martinez
KVN Corona Holds Off J Fire Up In $1,000,000 Ed Burke Million Futurity
LOS ALAMITOS, CA—JUNE 18, 2017—
As an entrepreneur, Keith Nellesen has been highly successful with business ventures like Vivint Inc, a solar and security company which he co-founded; NUVI, a social media mining company which he founded; and as CEO of the investment company of McColee Partners.
The native of Idaho Falls, Idaho and graduate of Brigham Young University, Nellesen has now also reached great heights in the sport of Quarter Horse racing after his homebred Corona Cartel colt KVN Corona won the Grade 1, $1,000,000 Ed Burke Million Futurity on Sunday night at Los Alamitos Race Course.
Ridden by Ramon Sanchez for trainer Paul Jones, the 9-5 favorite KVN Corona broke nicely from post number six and took the lead soon after on the way to posting a neck victory over Darling Farms, Jaime Gomez and Ernesto Solis' 21-1 longshot J Fire Up in the richest race contested at Los Alamitos so far this season.
Now unbeaten in three career starts, KVN Corona covered the distance in :17.575. The thrill of victory was most enjoyable for Nellesen, a horse lover who breeds runners under the banner of McColee Land & Livestock, LLC.
Winning trainer Paul Jones and owner Keith Nellesen are interviewed by TVG following Sunday's win in the Ed Burke Million Futurity.
© Scott Martinez
"First one we've won," said Nellesen referring to million dollar races. "It's an unbelievable feeling. I'm just a kid from Idaho that just loved horses. This is kind of a dream come true type of a thing. We made a decision long time ago to come race at Los Alamitos and try to race in these futurities. I actually bought (KVN Corona) at the (Ruidoso) sale (for $140,000), but we raised him since he was a baby. We thought he was a really good horse that could done some great things. You buy them and hope that they'll be something special. Pretty much everyone felt this horse would be something special."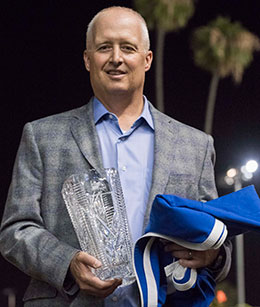 Winning owner Keith Nellesen picks up the Ed Burke Million Futurity(G1) stakes trophy and blanket Sunday night at Los Alamitos Race Course.
© Scott Martinez
"He's the first colt we've ever ran," added the Utah-resident. "We've always ran fillies and tried to turn them into mares. This is as exciting as it gets. A kid from a small town in Idaho comes and wins a Grade 1 at Los Alamitos. We're in it to stay, especially as breeder. If you are breeders and you're in this business as much as we are you kind of have to run. That gets your heart pumping. I was talking to a person up there who was the under bidder on him and he said 'man, if you had just not bid, you wouldn't have to go through this.' My wife (Melissa) went crazy. I think now she's a little more addicted to racing than she was before tonight. My parents came down with us and my wife's dad came down with us. Also Lance Robinson and our partners in the horse business also came down with use something special."
KVN Corona is named after Kyle Van Noy, an NFL linebacker with the 2017 Super Bowl champions New England Patriots. Van Noy play college football in Utah where he starred at Brigham Young University. He would eventually be drafted in the 2nd round by the Detroit Lions before being traded to the New England Patriots. Van Noy was credited with 1 tackle and 1/2 a sack in the Patriots victory over the Atlanta Falcons in Super Bowl LI.
"(Kyle) just got his Super Bowl ring I think about 10 days ago," Nellesen said. "We were teasing him last night and telling him that hopefully we could get a ring tonight (for winning the Ed Burke Million), which we did. He's a great friend of the family. He's like part of our family. We got to meet him in college. We name our horses after different things and we named him KVN Corona when he was a just a little foal."
McColee Land & Livestock consigned KVN Corona to the Ruidoso Sale, but Nellesen could not let the colt go.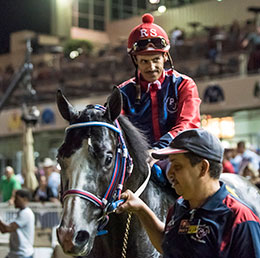 Ramon Sanchez aboard Ed Burke Million Futurity winner KVN Corona.
© Scott Martinez
"We bring all of our horses to the sales to sell," he said. "I really like this horse for a long time. I've had other things that we could do with him if racing didn't work. I set a limit. I had one bid left in me and luckily we got him."
From there, KVN Corona went to Mike Joiner's training center in New Mexico to begin preparing for his freshman campaign.
"We send all of our horses to Mike Joiner down in New Mexico to have him break and get them trained. We then decide where we are going to go. Mike really liked him a lot down there. We have him entered in everything. He's entered in all the Triple Crown races in Ruidoso and he's in all the big futurities here too. Mike doesn't train out here (Los Alamitos) so we sent them out to Paul here. We think (Los Alamitos) is the fairest place to run. We like it out here. That's really important to us. We are out here and hopefully we'll get a few more."
Joiner did a great job preparing KVN Corona for racing.
"This colt is about as professional as you can get for a colt," trainer Paul Jones said. "He does everything right. He's really well mannered. He gets in the gate, he stands good, and he runs straight. I give credit to the Joiners. They broke him and he was sent to me and he is just a pro. It's horse racing and anything can happen. A bad break, you can get cut off, I've had it all happen. To win a race like this everything needs to come together. You can't make any mistake."
Ed Burke Million Futurity(G1) winner KVN Corona in the winner's circle at Los Alamitos Race Course.
© Scott Martinez
Jones and winning rider Ramon Sanchez were enjoying their third win together in the Ed Burke Million. They also won the 2008 running with champion
Foose
and 2011 renewal with champion Separate Fire.
"I like the way Ramon rode him," Jones added. "He just kept the horse picked up and let him do the running. He didn't get all excited and go whipping and slashing. He let the horse run his race. Ramon knows the colt and knows how to ride him." "Paul used the word professional and even as a baby he was always really well behaved," Nellesen added. "He wasn't one that would be running out in the field. He just kind of did his thing. He's been great for a long time. We're really excited about this horse. His full brother, (Grade 1 winner) Big Lew, we love him too. (Big Lew) won the Los Alamitos Super Derby out here."
KVN Corona has a plethora of million dollar races for his connections to set their sights on now. The decision will be made in time.
"We'll enjoy this victory and worry about (his next races) later," Jones added.
In fact, the Nellesens have more pressing and important matters to take care of immediately upon their return to Utah. "Our little girl turns eight (on Monday) so we're having a big birthday party in the morning. I guess it's tomorrow already so happy birthday Presley."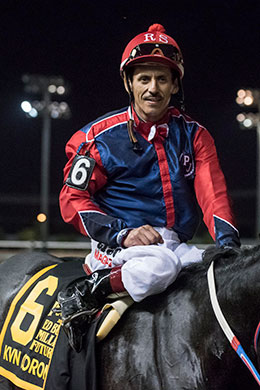 Ramon Sanchez is all smiles after winning the Ed Burke Million Futurity aboard KVN Corona.
© Scott Martinez
Out of the Executive Menace mare Executive Looks, KVN Corona earned $403,200 for the win. His previous two victories came in his Ed Burke Million trial, in which he posted the second fastest qualifying time, and before that a daylight victory in a maiden race.
Sired by Kiddy Up and out of the Walk Thru Fire mare This Boogie Fires, J Fire Up earned $163,200 for finishing second. Racing from post number one in this race, the filly had previously won her trial with the 10th fastest qualifying time.
"We're pleased," said part owner Dan Darling of Lamont, Oklahoma. "I went to Jaime's farm and I bought two other horses and as we were leaving I saw her. Jaime told me what he wanted for her and I said 'I'll take half and you keep the other half.' We went from there."
Now in its fourth year in racing, Darling Farms has enjoyed some good times. In addition to this second place finish, the racing operation has also enjoyed winning the Heritage Place Derby two weeks ago with Hold Air Hostage and campaigning the outstanding One Fabulous Eagle, the runner-up to Jess Good Candy in the 2015 All American Futurity. One Fabulous Eagle also ran third in that year's Rainbow Futurity and eighth in the 2016 All American Derby.
"We were also in PCQHRA Breeders Futurity (LD Is Back)," Darling said. "We've been lucky."
Young rider Jose Nicasio was aboard J Fire Up. For the pilot, this is most notable result in his Quarter Horse racing career. Abigail Kawananakoa's Chance To Fire, a graduate of the Los Alamitos Equine Sale, earned $115,200 for his third place finish. The gelding by Walk Thru Fire was ridden by Cody Jensen for trainer Chris O'Dell. Chance To Fire raced from post number 10.
Out of the Separatist mare Elans Last, Chance To Fire brought $170,000 in the sale last fall. He was bred by Edward C. Allred.
Jose Flores and Steve Mickaelian's Apollitical Stone earned $67,200 for running fourth, while Legacy Ranch's homebred and fastest qualifier Platki picked up $57,600 for finishing in fifth place.
SC Vapor Trail, Sumokinintheboysroom, Remember To Dash, Indescribaly Blue and Jess My Kiss completed the field.
* * * * * * * * * * * * * * *
JGA Racing Stable's California Eagle, a half-brother of the aforementioned Platki, won the $30,000 Ed Burke Juvenile Invitational by a half-length over EG High Desert Farms' Matilda Czech.
California Eagle winning the Ed Burke Juvenile on Sunday
at Los Alamitos Race Course.
© Scott Martinez
Ridden by Martin Arriaga and trained by Juan Aleman, California Eagle covered the distance in 17.781.
Legacy Ranch bred gelding by One Famous Eagle and out of Tender Flyer by Strawfly Special. California Eagle is also a half-brother to the champion filly Flying Fig.
Matilda Czech is by first crop sire Fsst Prize Dash from the Corona Czech mare Short Chzech.
Live It Up, a gelded son of Foose was a head back in third for owner Howard Nichols and trainer Jose Flores. Allred and Siebly bred the colt out of Golden State Million Futurity(G1) winner This Partys On Fire by Walk Thru Fire.
Courtesy of www.losalamitos.com.