Friday, May 24, 2013
Member Stallion Search
La Gata Negra (#9) defeating I Go Out Walking (#2) to set the top qualifying Governor's Cup Futurity trial time at Los Alamitos.

Scott Martinez Photo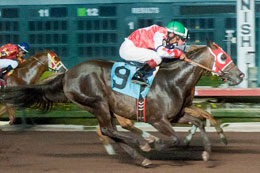 La Gata Negra Is Fastest Qualifier To Governorís Cup Futurity
LOS ALAMITOS, CAóJULY 13, 2012ó
Armando Arreola Jr.ís La Gata Negra finished as the fastest qualifier to the Governorís Cup Futurity after holding off Double Bar S Ranchís I Go Out Walkin by a nose in the first of six trials at 350 yards on Friday at Los Alamitos Race Course.
Trained by Mark Skeen, La Gata Negra broke her maiden in what was her third career start. The Walk Thru Fire filly will now lead the way in the Governorís Cup Futurity final to be held as part of California Breeders Champions Night on Saturday, July 28.
Paul Jones and Thompson Racing's Henoshersecret returns after winning his Govenor's Cup Futurity tiral.
Scott Martinez Photo
Ridden by Joel Cruz, the Steve Burns-bred filly had a Ĺ length lead during the first part of the race before I Go Out Walkin came flying at the end to make things close. Originally, La Gata Negra received a clocking of :17.664, but that time was later revised to :17.572 following a rare technical issue with the timer.
The first three trials of the night, which included La Gata Negraís race in the opening heat, were timed using the same timing equipment, but when the timer did not work properly during the fourth trial, a different system was used to clock the race.
The final three trials were timed using the second system and since by rule all stakes trials contested during a single racing program have to be timed in the same manner, the opening three trials had to be timed again with the second system. With the revised times completed, La Gata Negra became the eveningís top qualifier.
Out of the three-time major futurity finalist Miss Kittys Bar Bet, La Gata Negra is one of four qualifiers sired by Walk Thru Fire, the reigning California Stallion of the Year. Second fastest qualifier I Go Out Walkin is also a filly by Walk Thru Fire owned and bred by Double Bar S Ranch. Her mother is Rieda Hay Worth, a former 300-yard track record holder at Los Alamitos. Quick out of the gate in her previous start, I Go Out Walkin showed a nice final kick to make things close at the end of the race. Joe Bassett saddled I Go Out Walkin.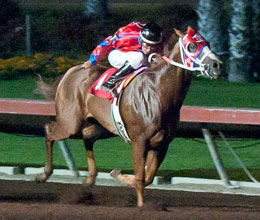 Don Loncho, under jockey Cruz Mendez, qualifying from the second trial race.
Scott Martinez Photo
Paul Jones and Thompson Racingís Henoshersecret scored his second victory in four career starts after winning the fifth trial to the Governorís Cup. The colt by 2006 All American Futurity winner
No Secrets Here
finished with the third fastest time after covering the distance in :17.588. He came into this race having finished second in his trial to the Ed Burke Million Futurity and third in his trial to the Kindergarten Futurity.
Don Loncho, Secretly Hot and Docs All Heart all qualified to the final after winning in their respective trials. LJM Ranchís Don Loncho won an exciting duel against Ed Allredís Swindler, but both runners will have a chance to meet again in the futurity final. Gildardo Garciaís Secretly Hot, who like Don Loncho and the aforementioned La Gata Negra and I Go Out Walkin, is also sired by Walk Thru Fire. Dutch Masters IIIís Docs All Heart edged Jon and Linda Cannonís Clever Me by a nose in the sixth trial.
For the complete revised list of Governors Cup Futurity finalists, times, sires, dams, owners, breeders, trainers and jockeys CLICK HERE.
Courtesy of www.losalamitos.com